For the last month, Victorian Hearing ran a rather distasteful advertising campaign for invisible hearing aids.
They had the audacity to label hearing aids as ugly and compare them to prawns. You're probably thinking "what the heck?!". Your thoughts would resonate with 100+ people in Victoria – that includes deaf and hard of hearing people, parents of deaf/HoH children, people who work with deaf/HoH, members of the Deaf community and so many more.
Apparently they've been running the campaign for THREE YEARS. Three sodding years and the poster has been spotted on trams and buses all over Melbourne…yet we did not learn of it until about 24 hours ago. Something's amiss about this.
When the advertisement came to light 24 hours ago, people took it upon themselves to post their feelings and thoughts on Victorian Hearing's Facebook. The advertisement was shared multiple times – they have since taken it offline and the campaign ended yesterday, so the posters should be taken off trams and buses this week.
Channel 7 Melbourne picked up on it and will be running a segment tonight. They have interviewed parents of deaf/HoH children and members of the Deaf community. They have also interviewed Victorian Hearing.
Edan Chapman, a super talented Deafblind photographer, quickly put together a response with help from the staff at Vicdeaf… a truly brilliant comeback!
It's yet another proof that a marketing team has failed to consult with the community before releasing such advertising campaign. Remember NSW Labor's political campaign poster targeted at the disabled population in NSW where they used ASL fingerspelling instead of Auslan? I wrote about this earlier this year.
Anyhow…
I'll have you know that I LOVE prawns and I would have them all year around. Especially on a hot summer day with some wine.
I've worn hearing aids before. I wore them for the majority of my childhood and teen years. I stopped wearing them because it stopped working in my right ear and I did not see the point. I've worn a hearing aid in my left ear sporadically throughout my twenties, but right now, I cannot be bothered. I've actually considered getting tested to see if I am eligible for a cochlear implant on my right ear, but it's not a priority at this stage.
That said, I don't have anything against hearing aids and cochlear implants – visible or invisible.
BUT.
There's no need to be embarrassed while wearing your hearing aid/s and cochlear implants. In fact, you can jazz them up with skins/colours/stickers/etc.
Limping Chicken has a brilliant article about pimping your hearing aids with photos of pretty (yes, that's right, NOT UGLY) hearing aids.
Cochlear implants also now come in various colours, and apparently you can get skins for them too.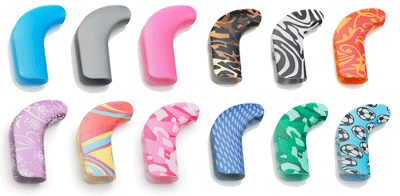 If you've got the goods, flaunt 'em! 😉
Yours in awesome and pimped hearing aids and cochlear implants!
S xo